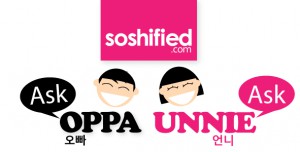 The second edition of Ask Oppa / Ask Unnie is here! We received many great questions from our readers, both fun and serious, and once again michaelroni-oppa and Procrastinatoress-unnie are here to thrill and entertain you with our answers! But before we get to the questions that you've asked us for this month, we'd like to give you a friendly reminder about the rules for submitting questions, because this column is all about YOU and your participation.
1) Email ALL questions that you want to have answered to tip@soshified.com and please write "Ask Column" as the subject. Any questions left in the comments, emailed to other addresses, or incorrectly labelled will NOT be answered.
2) When you email questions to us, please also include your Soshified username and your location.
– Example:
Username: michaelroni
Location: Texas, USA
3) Try to ask opinion questions, since questions about Girls' Generation facts can be answered here instead.
– Please avoid questions that can be answered in just one word such as "Who is your favorite member?"
– Do not ask questions relating to Soshified technical matters or SoShi Subs release dates.
[NEW!] 4) This isn't actually a rule, but a friendly hint about sending us questions. There is NO deadline for submitting questions. If we did not answer your question this month, it doesn't necessarily mean we will never answer it. We can always save questions for later months.
And now on to this month's questions!!
Out of all of SNSD's CFs, which was your favorite?
– somedudey12, in New Jersey, USA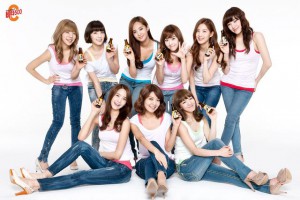 michaelroni-oppa says:
There are so many CFs to choose from, it's difficult to choose just one as an absolute favorite of mine. If I start to run off all the great CFs that they've made, the list starts to get extremely long: Goobne, Coway, Vita500, Dior, LG, and so on. But if I had to choose one as my overall favorite in terms of concept, music, the product itself, and the girls' appearances, I would choose their CF for Samyang Ramyun (specifically the one where they're all sitting together inside a house, not the picnic or winter CFs). The girls were still sporting their Genie-era hairstyles, but the whole CF took a more cutesy direction with the bright lighting and the light-hearted dance. I love eating instant ramyun, but that wasn't even close to being my favorite part about the CF. The one element of the CF that sealed it as my absolute favorite Girls' Generation CF was the fact that the song was a remake of the theme music to the classic NES game "Bubble Bobble". I'm an old-school nostalgic gamer, and hearing Girls' Generation singing a song to the melody of the "Bubble Bobble" theme appealed to both my SONE fandom and my gaming fandom.
Procrastinatoress-unnie says:
A hard question, given the fact that Girls' Generation has more CFs and endorsements under their belt(s) than any other idol out there. While I'm quite taken by their recent Daum CFs and the cuteness of their first Japanese CF for E-ma, Goobne Chicken is probably my favourite out of the girls' endorsements. Goobne and Girls' Generation have a very long-standing relationship y'see, both having found each other back in '08 when neither were "super big-wigs". Look at them now – one of the strongest contenders in the chicken market and one of the strongest in the K-pop market. While all of Goobne's Girls' Generation CFs have been adorbs, the one released in late '09 that only has about three seconds of actual footage of chicken and consists mostly of the girls dancing is my absolute fave. Their dorkiness is so facepalm-worthy you can't not love it. Not to mention the catchy jingle.
Do you think Girls' Generation could be commercially successful if they debuted in the US?
– forevalub, in California, USA
michaelroni-oppa says:
I think there are several factors that would make a US debut difficult for Girls' Generation. The first is the language barrier, as there are only two members who don't have to worry about that at the moment (Fany and Sica, obviously). We've seen that the language barrier isn't really an issue for Girls' Generation and other K-pop groups debuting in Japan, but those types of crossovers have been going on for quite a while now and both countries are comfortable dealing with language issues. The US, however, is unfortunately not very receptive to foreign artists who are not fluent in English. Another factor that I believe would make a US debut difficult is the current musical trend towards solo acts. While groups are experiencing large-scale success in Korea and Japan, the US is gravitating towards more individual singers. There were many groups that were popular in the 1990s that later broke up so that certain members could make solo debuts, and now it seems as if all the biggest musical hits in the US are from individual singers and not groups. I would absolutely love to see Girls' Generation make a debut in the US and become successful, but at this very moment in time, I think it would be an extremely difficult task.
Procrastinatoress-unnie says:
We've seen a lot of Korean artists and groups try to break into the US market and while some have made minor splashes, none of them can really claim to have "conquered" it. The US market and the K-pop market are just so different that the transition is incredibly hard. Even Girls' Generation, with their American members, would have trouble there – possibly even more so than other K-pop groups because they're so incredibly Korean. When have you ever seen such a large girl group doing cute pop songs achieve popularity in the US? I'm not saying they wouldn't be able to achieve success in the US, but I think if they were to try it they'd need to change themselves dramatically in terms of how they present themselves and their musical style – and personally I like Girls' Generation the way they are. Well, SM doesn't have any US plans for the girls as of yet, but who knows what the future holds?
Which Soshi pair is better for Taeyeon in your opinion? Is it TaeSic or TaeNy? Or do you have others in mind?
– scoot, in Malaysia
michaelroni-oppa says:
Hmmm Soshi pairings. This is such a highly opinionated topic that I feel compelled to answer this in the silliest – er, I mean – most serious way possible. I'm going to say TaeNy, and here's why. Ok, so I'm a Sunshiner through-and-through, everybody knows that. The two most common pairings that people think of when they think of Sunny are 2Ny and Dandyu (at least, in my experience those are the two most common). Now you, dear reader, might be wondering what this has to do with Taeyeon and the TaeNy pairing. Well the way I figure, if Taeyeon and Tiffany are paired together, that eliminates both 2Ny and Dandyu as pairing possibilities for Sunny, opening up the possibility of her pairing with me and forming MikeSun. Did you see what I did there? I know, you're amazed by my incredible logic. I would be, too.
Procrastinatoress-unnie says:
You know, after spending years in the SoShi pairing fandom, you discover this amazing thing that offers a solution to any sort of friction that might be caused because of SoShi pairings: triangles.
If your bias wanted to quit being a member of Girls' Generation to pursue other activities full time (MC, actress, etc) or if there were stress related issues, and your answer would heavily influence whether they do or not, would you encourage them in their decision or would you try to sway them into staying with the group? What words of encouragement would you give them in either instance?
– WingedCBAM, in Texas, USA

The question is about biases, therefore an awesome picture of Sunny must be included.
michaelroni-oppa says:
Wow, such a serious question! I would ultimately tell Sunny (like it's any secret that she's my bias) that she should go with whatever she feels is the right decision and whatever makes her happy. Since the situation that's being brought up is that she wants to quit, that basically means I would encourage her to quit. It would absolutely crush my heart to see Girls' Generation break apart, but if that's the direction that has to be taken in order for Sunny or anyone else to be happy and have no regrets, then so be it. I would encourage her first to talk over the decision with her family, her fellow Girls' Generation members, and if after that point she still stands firm in the desire to quit, I would encourage her to do it. I've always believed that life should be lived without regrets, and if the decision to leave the group could be made by Sunny or anyone else with absolutely no regrets whatsoever, then I have no right to try and sway them to do otherwise.
Procrastinatoress-unnie says:
Hmmm that's a hard one. Well, personally, the reason why I like Girls' Generation so much is rooted firmly in the fact that the members are so close to each other and seem like such a tight-knit family. Rather than being influenced by a certain member, you could say I came into the fandom because I feel for the group as a whole, so the thought of there being even one less member is…depressing…you could say. But I think it would depend on the circumstances. If the other members show support for said member I would do so as well. If there's a choice and the member is better off leaving in the long run, I'm not going to be selfish and bind her to the group if she feels as if it's not the right place for her. But I don't believe it'll ever come to that. In this ever-changing world the SoShi bond is like the constant factor that will always be there.
So, dear readers, what did you think this month's edition? How would you have answered these questions? We love to hear your comments, and we look forward to seeing more great questions! See you next month!
Written by: michaelroni@soshified.com, Procrastinatoress@soshified.com
Edited by: residentbenchwarmer@soshified.com
Banner by: danieru03@soshified.com
Have a news item that you think Soshified should know about? E-mail us at tip@soshified.com.
Follow us on Twitter: http://twitter.com/soshified for the latest on Girls' Generation.