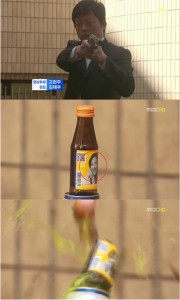 MBC News Desk has been caught up in controversy due to its firearms test during its "Taiwanese Illegal Firearms Smuggling… How Did They Pass Customs?" story. The footage used was that of a pharmaceutical company's drinks bottle, with Girls' Generation member Yuri's face on it, being shot.
The contents of the report were along the lines of the South Korean ban on gun possession making controls so lax that Taiwanese firearms could be smuggled into the country. The guns had been imported in disassembled parts for reassembly in Korea. To demonstrate the power of the firearms that could tear paper and shatter cans and glass, footage showed a currently-marketed brown soft-drinks bottle being shot with a gun.
The bottle was labelled with the image of the endorsement model, Girls' Generation member Yuri, and shattered instantly upon being shot.
Several viewers who watched the report left critical messages on the MBC News viewers' messageboard.
– "To fire a gun at a bottle with a person's face on… it's obvious which company makes this product from the outset, and did you have to use that bottle of all bottles? Shouldn't you have at least turned the bottle around or something?"
–"It seemed like they were firing on an actual person's head. I hope you weren't trying to say the firearms were that dangerous by going for the shock factor."
One member of a community site commented that "It's as though MBC are Girls' Generation antis." and "Even people who aren't fans of Girls' Generation would feel uncomfortable."
MBC News Desk had previously investigated MMORPG-induced violence by temporarily disconnecting the power to a PC Cafe. In light of this, netizens have asked "Is this the second Violence Experiment?" and have labelled this the "Girls' Generation Fan Violence Experiment". The earlier "PC Cafe Violence Experiment" was ruled by the Korea Communications Standards Commission to be unrelated to the subject matter being investigated, and declared an excessive and unnecessary experiment.
Translated by: oniontaker@soshified.com
Edited by: soshiluv9@soshified.com
Source: Naver News and MoneyToday
Have a news item that you think Soshified should know about? E-mail us at tip@soshified.com.
Follow us on Twitter: http://twitter.com/soshified for the latest on Girls' Generation.