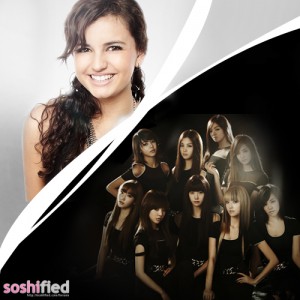 In earlier news, Girls' Generation were reported to be collaborating with Justin Bieber for their new Japanese single "Mr. Taxi". After seeing the successful reception of Justin Bieber by SONEs, representatives of Rebecca Black reached out to Soshified.com and revealed the next collaboration between Ms. Black and Girls' Generation. The new track will be promoted in Korea and is titled "Black Friday".
Many fans might not know this, but Rebecca Black was a former SM Entertainment trainee, only stopping her training due to a move back to America. However, she did not lose contact with the Girls' Generation members or SM Ent. The visual concept for smash hit Run Devil Run was actually designed by Rebecca Black (thus termed "Black Soshi") while the song was composed by Ark Music Factory and sold to SM Entertainment for two dollars.
Ark Music Factory also stated, "The lyrics in Rebecca's hit song "Friday" were based on her experience as a SM Entertainment trainee. One such incident would be where Rebecca was, at 7am, waking up in the morning to texts from Jessica telling her, "gotta be fresh, gotta go downstairs" to the SM Ent basement. After a strenuous and long week, Rebecca would look forward to Fridays, hanging out with her two best friends and dancing without restraint."
When Soshified.com requested for a quick interview with Ms. Black herself, her representatives had to reluctantly refuse, as she was at the bus stop, in the midst of making a crucial and life-changing decision regarding which seat she wanted to take for a lunch drive to McDonald's.
With $20,000 worth of YouTube ad revenue added to Rebecca Black's name, and with videos of Girls' Generation's music videos peaking at more than 30 million views, the two household names will also produce a theme song for Youtube titled, "Oh! Youtubeday".
Meanwhile, check out the teaser video for "Black Friday" that has been unveiled to rave reviews from all netizens!
PS. You've been Soshified! Happy April Fools' Day!
Written by: soshiluv9, shizzles9, oniontaker @soshified.com
Special thanks: hyoism@soshified.com for the poster!
Source: snsdkorean (Huge props to them for creating the video and the idea of Black Friday!)