RIGHT NOW IT'S BIEBER SHIDAE (BBSD)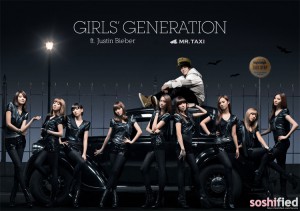 On March 31, an interesting piece of news was picked up regarding the release of "Mr. Taxi" and – brace yourselves – it involves Justin Bieber. Thanks to the hard work of the writers, Soshified has managed to secure an exclusive interview with Justin, where he tells us all about his experience meeting the nine gorgeous ladies of Girls' Generation.

The #1 worldwide sensation, the 17 year-old Canadian multi-talented teen pop singer revealed to us that he will be collaborating with Girls' Generation for "Mr Taxi". The innocent young lad also spoke with tears in his eyes about how his hit song "Baby" was fully inspired by Girls' Generation's "Baby Baby". To reflect the frustration he felt when he couldn't understand the Korean lyrics even with the help of Google Translate, he picked mindless, easy-to-remember, and repetitive lyrics for the chorus in his song.
The adoration that Justin has for Girls' Generation is not one-sided, following a tip-off from a source close to the girls, who will only be named as "KimFany". KimFany has privately revealed to us via a Facebook post that linked a tweet which linked to a post on MySpace through a friend on Xanga, that Taeyeon now "…has a shrine dedicated to him [Justin Bieber] in her bedroom, and she's off her rockers looking for purple backpacks since it's his favourite color."
Justin added that he was amazed by the main dancer who appeared on various related videos on YouTube. He commented, "Hyo…yeon, is it? I'm still a bit confused at Korean names but I think that's her name, yeah. It's cool if we can have a dance-off one day. It'll be pretty cool if that gets broadcasted and all my fans–as well as the girls'– could see it. Oh, Usher could join, too. That'd be just awesome!"

INTERVIEW: THE BIEBER EXPERIENCE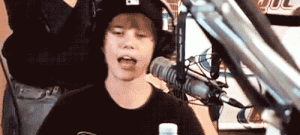 Q. Why did you decide to collaborate with Girls' Generation?
A: You know, I see how well my gurl Avril is doing in Japan and I'm like, "Yeah I wanna do that too!" I heard about how hot Girls' Generation is in Japan and I thought it'd be awesome to work with them on their new single. We just finished filming the "Mr. Taxi" MV and I had lots of fun playing the taxi driver.
Q: A little while ago, Taeyeon got a haircut that looked like yours but all the fans hated it. What are your thoughts on that?
A: Um, I think it's really cool having Taeyeon kind of look like me. It's like seeing a clone of myself but not at the same time, kind of like Inception. Taeyeon is my height so really she's the only member I can talk to without hurting my neck but she doesn't speak English so we always end up just staring at each other's hair.
Q: Who has better hair, you or Taeyeon?
A: This is kind of a sensitive question. Really, since I'm not in her position, I'm not quite sure how to answer this. But I'm just gonna say that my hair is super smooth. l have to take really good care of it and literally have to go take mud baths every week but everything happens for a reason, right?
Q: Did you have trouble recognising all of them?
A: Uh… I really like them, even though I still can't tell them apart. I just know that there are two members with American names that I understand. There's a Sunny but I'm still working on that… Plus there's a girl [Sooyoung] who likes black men, I'm gonna introduce her to my homie Usher.
Q: Any memorable moments while recording "Mr. Taxi" with the girls?
A: Um, yeah, they took me through a dance routine in high heels… gave me a set of pink skinny jeans and a really tight shirt with my name sewn on and spelled wrong (JASTIN ♡ BBSD) but I like it anyway, it's what I always wear. We went out to dinner too and Jessica is really nice.. she gave me all her cucumbers and onions. They ended up paying for the bill because it was so big, wow those girls can eat.
Q: So you got to know the girls a little bit better?
A: I guess I did uh like they were all so amusing. I talked with Tiffany the most since she's one of the two who can speak fluent English, and Jessica didn't look interested in me except for when she gave me her cucumbers. I think she was out of it. I mean, why would someone want to give up such tasty vegetables? But anyway, Tiffany was telling me something when the twins [Yoona & Yuri] interrupted and made Tiffany smell their breath. Tiffany ran away and didn't come back, though I saw her laughing with them right after and looking at me. I think they like me…
So there you have it folks! Justin Bieber, Mr. Eligible himself, has fallen for the over 400 charms of Girls' Generation and enjoyed his time in Korea while filming the MV and recording vocals for "Mr Taxi", undoubtedly the track that will allow our girls to enjoy worldwide super-stardom.
Now, we have been given our readers an EXCLUSIVE preview/teaser of the "Mr Taxi" track: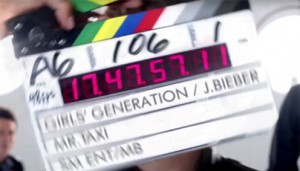 Stay tuned to our next interview with immensely popular YouTube star Rebecca Black (known for her hit song "Friday") where we talk about how she was a potential SM Trainee and possible member of Girls' Generation!
EDIT: The Rebecca Black interview is now out!
PS. You've been Soshified! Happy April Fools' Day!
Written by: doe, soshiluv9, Soy, GPTX, spiceshoe, shizzles9, residentbenchwarmer, MaiMai! @soshified.com
Image credit: cioco, Chef, Vtension @ soshified.com
Video credit: MGFX Team @soshified.com
Special thank you to: Vtension, cioco, Aquamarina, Leddy, jmd and KyopoCanuck for the help with the layout! Please make sure to enjoy it because we'll just have this up until April Fools' is over! Please don't leave any hurtful comments about Justin in the comments section because we are a respectful fandom and remember how we treat situations reflects back on the types of fans Girls' Generation has. We hope you enjoy today and well… our new layout will come soon! If you have any suggestions to improve the features on Soshified please include them in the comments section!