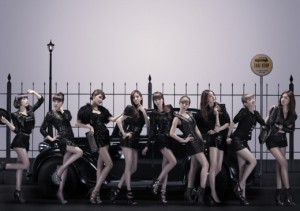 "Himnae (Way to Go)", the follow up track on SNSD's first extremely popular mini-album, "Gee," has been chosen as the #1 song to cheer up those who have been saddened by the recent Japanese earthquake on the music site Monkey3.
The officials on the Korean music site Monkey3 asked the question, "what song displayed the best message of hope and courage?" A great majority of those who voted picked "Himnae (Way to Go)" as their #1 choice, with 40% of the vote going to the upbeat track. They stated this was because "Himnae (Way to Go)" allowed its listeners to feel the energy of the track as well as feel the girls cheering them on.
Kim Soohyun's song "Dreaming" from the Dream High OST was the runner-up garnering 29% of the vote, while In Sooni's "Goose's Dream" received 11%.
Written by: JeremyJay22@soshified.com
Source: Yahoo Korea, KPOPMV010@Youtube