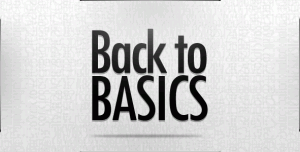 As a refresher, the Back to Basics (B2B) column essentially brings you back to Girls' Generation's earlier days. Every month with the girls is a feel good journey, so sit back, read up and absorb as much as you can because everything GG is worth reading
February from years 2008 to 2010 was a busy month for the girls. If January was considered as the start of something new, February should be seen as the expansion of their activities. As they got used to live performances and began to get a good grip of the musical field, the girls started to increase their variety show appearances and took on more individual projects. With this growing exposure, fans were undeniably spoilt for choice.
What's more admirable is how the girls have never compromised their group activities even with the increasing load on their schedules. Though some members occasionally had to miss out on a performance or two, they knew their stage presence was strongest with 9.
2008: SNSD is here today because of our fans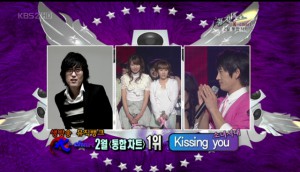 If there is one award that deserves reliving, it would be this. The girls won their first ever Music Bank trophy with Kissing You on the 29th, leaving them speechless with tears and choked with emotions. However, it was also later revealed that prior to their appearance on the show, they were travelling from another filming and were faced with bad traffic. The girls ended up getting off from their cars and running all the way to the KBS Public Hall to perform in time for the last act after their sunbaes DBSK. Sooyoung's mother confirmed speculations on fansite Milkye, and added that the girls had a minor car accident, causing difficulties for the car to move.
Their unwavering dedication to stand on stage left many in awe and with new-found respect for the girls. It still is, unsurprisingly, a topic of praise to this day.
2009: We feel the happiest as 9

With Gee still going strong on both the online and offline charts, the girls were also starting to make waves on the variety scene. They were on so many popular programs that it was said to be nearly impossible to see a show without at least one of the members on. It was rumored that Girls' Generation was the first K-Pop idol group to have appeared on all the major programs at the same time. This not only saw Girls' Generation's dominance in the entertainment industry, but it also proved their influence on the public as well.
2010: Becoming a celebrity looks glamorous on the outside, but it's really not an easy road.

Even though Oh! promotions were just beginning for the girls, they tirelessly kept up with their appearances on variety shows. To further exemplify their charms and all-rounder abilities, the two youngest Seohyun & Yoona became fixed members of MBC's 'We Got Married' & SBS's 'Family Outing' respectively. With Yuri & Sunny still part of KBS's Invisible Youth's fixed cast, this marked Girls' Generation's successful prevalence on all the major television networks in South Korea.
Soshified's 1st Step as a Forum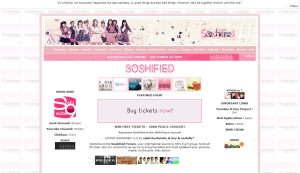 With more than 150,000 members, it's easy to forget how small of a community Soshified was. It officially opened on February 1st, with founder Soy leading the way to help it grow to become the most influential Girls' Generation forum that even the girls themselves have come to recognize. This forum is really nothing without the participation of its members, so give yourselves a pat on the back because the development is because of you as well!
The Pieces & Fragments of February: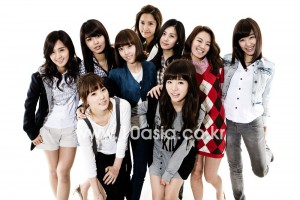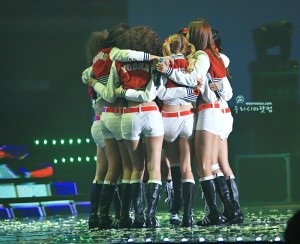 2008:
1. The girls said that singer (also their sunbae from SM Ent.) Kangta used to bring them meals while they were practicing.
2. Tiffany mentioned on KBS's 'Happy Together' that her sister was a student of the renowned University of California, Berkley.
3. Sooyoung's last day as a DJ for ChunBangJiChuk (Chunji) Radio was on February 1st. She left a heartfelt message on the radio's website to express her sadness and gratitude. Two days later, Sunny was officially announced to be the replacing DJ.
4. 'Sweet Memories with Girls' Generation' was released on February 14th. It's a compilation of JPop songs the girls chose which includes songs from Yui, Ayumi Hamasaki & Boa.
5. Seohyun revealed through a radio show that the wig she wore for their 1st album photoshoot was originally from Super Junior T, with the name Shindong written on the inside. On the same show, Taeyeon also mentioned that her nickname 'Tete' came about because her older brother couldn't pronounce her name right when he was younger, and called her that instead.
6. There was a slight controversy regarding SNSD's decision (revealed on the 12th) to forgo their university entrance exams for the year. However, the girls took responses professionally and replied that they wanted to focus on one aspect at a time.
7. The girls won their 1st SBS Inkigayo's Mutizen Award for Kissing You on February 3rd, beating out artists like VOS & Brown Eyed Girls.
8. Sunny, Yuri & Taeyeon graduated from high school.
9. The girls performed for many university orientations, including Korea University, Sungkyunkwan University & Konkuk University. It was rumored that they participated for close to 15 university events to help welcome the freshmen.
10. Unstoppable Marriage PD Yi Gyowook praised Sooyoung and Yuri for having excellent acting preparations. He also said that Sooyoung was a potential actress in the making.
11. There were rumors of Yoona being in a musical called 'Passing Rain', but it turned out false.
12. On February 29th, Baby Baby was confirmed to be the next follow up song after Kissing You.
13. Tiffany stated in an interview that Taiwan F4's Vanness Wu used to live nearby her house in America and were old friends.
14. For the lunar new year, the girls left the dorm to be with their families but Taeyeon stayed to wait for her parents who were coming from Jeonju. She felt so lonely that she called up ChinChin, which at that time was hosted by Super Junior's Kangin & Jo Jungrin.
15. Girls' Generation appeared in 6 magazines for the month of February, including Alice, Ceci & Junior.
2009:
1. Sunny was announced to be the co-host for a new music program called 'The M' along with SS501's Kim Hyungjoon. It was broadcasted on February 13th, and Sunny sang her solo song 'Finally Now'.
2. The girls had a really tight schedule. Once, their schedule had them down for KBS Music Bank on Friday followed by a flight to Thailand for a performance on Saturday, and then they had to fly back to Korea to perform for Sunday's SBS Inkigayo.
3. As part of an episode for MBC's 'We Got Married', Jung Hyungdon accompanied the girls on their trip to Thailand on February 7th for the 'SM Town Live '08 in Bangkok' Concert. It was the first time the girls performed there, and for the last part of the concert, the girls wore tees from soshifanclub.com. The shirts were given from Thai fans months before but the girls remembered and wore it for them. On the day the girls were leaving for Korea, they chose to use the airport's normal exit (instead of the VIP one) so that they could say goodbye to the fans.
4. On the February 6th edition of KBS Music Bank, the mini fireworks for their 'Gee' performance shot up and hit Taeyeon in the face. It was the pre-recorded version, and she was reportedly fine enough to perform again.
5. Celebrity blogger Perez Hilton mentioned 'Gee'
6. Yoona and Sooyoung graduated from high school on the same day (February 11th)
7. Seohyun and veteran trot singer Ju Hyunmi collaborated for the song 'JjaLaJaJJa'. The writer Kim Dohoon also writes for SG Wannabe & Kim Jongkook. Yuri was featured in the music video.
8. Tiffany revealed in an interview with Newsen that she had vocal cords nodules during 'Oppa Nappa' promotions but didn't talk openly about it because she was scared the fans would get worried.
9. Yoona was confirmed to be casted as designer Seo Yoo Jin in drama series, 'Cinderella Man'.
10. Sooyoung's mom chose Yuri as the Girls' Generation member she would want as her son. She said the reason was because Yuri was very respectable.
11. In a Music Bank poll, Yoona & Tiffany were voted to have the brightest greetings in person.
12. Shinhwa's Shin Hyesung mentioned in an interview that he thought Girls' Generation was really pretty and talented
13. In a fan account from a Chinese fan, Sooyoung ignored her manager's orders to sign in Korean and instead wanted to sign in Chinese. The line had to be halted for 30 seconds so that Sooyoung could finish.
14. Tiffany fell and injured her ankle backstage at the Baeksang Awards. She had to wear a cast for awhile, and had to stand at the side and sing for some performances.
15. The two 'Gee' dance versions were released during the month.
2010:
1. According to a fan account from a staff member, Tiffany went to all of the staff members there and said "You've worked so hard today, thank you", looking directly into their eyes each time she said it.
2. SM's stocks raised by 9.56% after the girls made a comeback with Oh!
3. Taeyeon revealed on ChinChin that the girls got hurt a lot before their Oh! comeback. Yoona fell on an icy road and had to get stitches on her palm, Tiffany slipped on a variety show and got a cast, and Yuri & Sunny got hurt during filming as well. She also mentioned how she caught a cold and had to be sent to the hospital, but was optimistic because it would mean a successful album for Oh! (according to old sayings)
4. Taeyeon was chosen as Naver's Musician Choice and she had to pick a few of her favorite songs. This included Leona Lewis's Run, Pixie Lott's Cry Me Out and Whitney Houston's Call You Tonight.
5. Singer Kim Jongkook picked Yoona, Tiffany & Hyoyeon as his top 3 favorite Girls' Generation members.
6. There were rumors that Yuri was forced to drop her role in a new sitcom due to her already busy schedule. Sooyoung who was supposed to be an MC for variety show Sweet Night also decided to drop from it as well.
7. Seohyun (with f(x)'s Krystal) was announced to be the new CF model for Clean & Clear cosmetics, while Yuri, Tiffany & Sooyoung were announced for Biotherm.
8. Seohyun graduated from high school and was already accepted into Junhyung University.
9. The 1st time they won the Music Bank trophy for Oh!, Sooyoung did the 'three winks' on stage, a request by a fan who posted on Bestiz.
10. Tiffany and Taeyeon revealed on MBC 'Section TV Entertainment Relay' that they would carry around a bell to wake the other members up. On the same show, a survey showed that Sooyoung was voted to be the most intimidating, and Seohyun as having the best body.
11. Tickets for Jessica's last musical performance for Legally Blonde were sold on February 8th, causing servers to crash for nearly 30 minutes.
12. On February 16th, Seohyun & CN Blue's Jung Yonghwa were officially announced to be the new couple for MBC's 'We Got Married'. While fans were worried about Seohyun being partnered with another idol, response was not as heated if compared to Taeyeon's era with Jung Hyungdon.
13. Taeyeon was so sick on ChinChin once that the PD had to stop her. They played songs for the rest of the time. She was at the recording of the Star Dance Battle and watched from the side but left early so she could get some rest.
14. On February 15th, Jessica's family (including f(x)'s Krystal) went to watch her perform her Legally Blonde musical.
15. During a fansigning event, the girls' manager wouldn't let them shake hands with the fans, but if he wasn't looking, Yoona & Hyoyeon would sneak one in.
Shows Released (And definitely worth watching)
Star Golden Bell : SNSD Special [02.02.08] [12.28.07]
Unstoppable Marriage ep.64 Snsd Cut [02.11.08]
SNSD Guerilla Date [02.16.08]
Park Soo Hong's DGDG Radio – TY-HY-Fany [02.19.08]
Star Golden Bell EP 224 – SNSD [02.14.09]
SBS Lee Jaeryong & Jungeun's Good Morning – SNSD [02.24.09]
Radio Star EP 126 – SNSD [02.25.09]
Family Outing EP 36 – Yoona [02.22.09]
MBC We Got Married S2 EP 27 – Seohyun & Yonghwa Cut [02.27.10]
Shimshim Tapa Radio – SNSD [02.11.10]
Taeyeon's Chinchin Radio – SNSD [02.05.10]
http://soshified.com…nsd-cut-020710/
Awards Achieved:
SBS Inkigayo Mutizen Award for on February 3rd, 2008
#1 on M!Countdown for on February 14th, 2008
SBS Inkigayo Mutizen Award for on February 17th, 2008
#1 on M!Countdown for on February 28th, 2008
#1 on KBS Music Bank for on February 29th, 2008
Song of the Month for the month of February 2008 from Cyworld
—-
SBS Inkigayo Mutizen Award for on February 1st, 2009
#1 on KBS Music Bank for on February 6th, 2009
SBS Inkigayo Mutizen Award for on February 8th, 2009
#1 on KBS Music Bank for on February 13th, 2009
#1 on KBS Music Bank for on February 20th, 2009
#1 on KBS Music Bank for on February 27th, 2009
45th Annual Baeksang Awards: Netizen Popularity Award on February 27th, 2009
45th Annual Baeksang Awards: Best New Actress Award on February 27th, 2009
—-
19th Seoul Music Awards : Bonsang Award on 3rd February 2010
19th Seoul Music Awards : Digital Music Award on 3rd February 2010
19th Seoul Music Awards : Daesang Award on 3rd February 2010
#1 on KBS Music Bank K-Chart for on February 5th 2010
#1 on KBS Music Bank K-Chart for on February 12th 2010
SBS Inkigayo Mutizen Award for on February 11th 2010
22nd Korea PD Awards : Singer Award on February 19th 2010
#1 on KBS Music Bank K-Chart for on February 19th 2010
SBS Inkigayo Mutizen Award for on February 21st 2010
#1 on Digital Category on GaOn Charts on February 23rd 2010
GaOn Chart Awards 2009 : Best Artist of the Year on February 23rd 2010
#1 on KBS Music Bank K-Chart for on Feburary February 26th 2010
SBS Inkigayo Mutizen Award for on February 28th 2010
Hope you've enjoyed February's compilations! Feel free to leave a comment if you have questions, or even feedback on how this column can be improved.
Written by: shizzles9@soshified.com
Sources: SNSD Soompi Thread, Soshified News & Translated Goodies
Banner by: tishos (L)@soshified.com