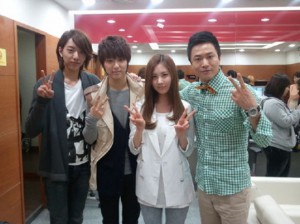 Singer Kim Jungmin revealed sadness at Jung Yonghwa and Seohyun's last filming of MBC 'We Got Married 2' 'YongSeo couple'.
Kim Jungmin wrote on his twitter at 1pm of 30th, "We finished the filming of 'We Got Married 2'. Nickhun and Victoria's sweet episode! I cried twice through my heart. Once was during the farewell scene of the YongSeo couple", informing YongSeo couple's last filming.
Also, he added a picture informing Seohyun's warm behavior and a note saying "Once again was when Seohyun came to the studio saying thank you, and gave us vitamins along with letters filled with sincerity! Oh I'm deeply moved!".
Jung Yonghwa and Seohyun were together from March of last year for around a year as the 'YongSeo couple', and finished their last filming on the 30th.
Netizens voiced their opinions saying things such as "I'm saddened by end of YongSeo couple", "Seohyun is a deep hearted girl".
Meanwhile, T-ara's Ham Eunjung was selected as a new female role for 'We Got Married's new couple.
Translated by 오이사랑싴@soshified.com
source: Nateon