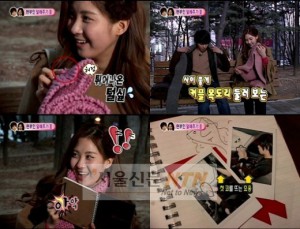 With the end close by for MBC's "We Got Married" couple Seohyun & Yonghwa, the latest episode brought smiles to many as the handmade scarf issue was finally brought to a close.
Feeling bad about losing the scarf Seohyun made for him from scratch, the episode revealed Yonghwa's intentions to make things better as he presented her with a pink scarf he knitted for her within a span of two weeks. After pretending that he bought it (along with a grey scarf for himself) from Japan, he eventually admitted to knitting it himself. Even with the lacking craftmanship, his hard work and dedication to get it done left Seohyun touched and surprised. He then presented her with a notebook filled with polaroids of himself in action as well as a personal note to express his apologies for losing her scarf.
The 26th of this month will mark Yongseo's final episode in the variety show, leaving many anticipating how the couple will end their journey.
Written By: shizzles9@soshified.com
Source: Nate