In our recent news article about Intel releasing new CF shorts featuring Girls' Generation, we made a quick mention about Soshified's efforts to promote Girls' Generation's Visual Dreams through Twitter. We are encouraging SONEs everywhere (that means you!) to take photos of the girls' Visual Dreams posters at famous landmarks or scenic areas in the countries in which they live. After the photos are taken, we would like you all to tweet the pictures with the hashtag #snsdvisualdreams included, along with your location. Also, please post any photos that you take to the #snsdvisualdreams thread we've started here on Soshified, as we're going to be compiling the pictures into a cool project soon. We here at Soshified want to see this become a worldwide trend so that the entire world can see how far the reach of the SONE family is!
Here are some examples of photos that SONEs around the world have already begun tweeting.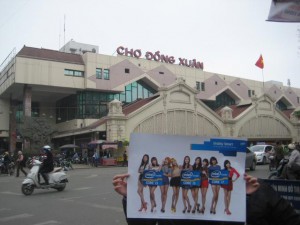 Dong Xuan Market, the largest covered market in Hanoi, Vietnam – photo by @Soo_Lynn

Limestone Lake in Southern Thailand – photo by @CR_009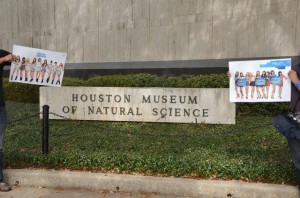 Museum of Natural Science in Houston, Texas, USA – photo by @RFMmichael
But the photos aren't limited to just these places. Visual Dreams posters have found their way to all corners of the globe: Singapore, France, UK, Indonesia, Taiwan, the Philippines, Canada, Australia, and places like Southern/Northern California and New York City in the USA. We want to be able to click on the hashtag #snsdvisualdreams and see photos of the beautiful posters from all these places around the world and more!
As someone who has personally contributed to this effort already (the photo from Houston is mine), I have some advice for SONEs who are gearing up to participate in this project. The first bit of advice I have is to bring at least a friend or two to help. While you can mess around with the self-timer settings on your camera, having friends around to take the pictures or hold the posters makes everything much easier. It's also highly recommended to dress comfortably and wear shoes that are meant for walking. I found myself pretty exhausted after spending hours upon hours driving and walking around Houston with fellow Houstonian Soshified members GPTX and WingedCBAM.
Ultimately, the most important thing is this: Be on the lookout for the posters, because we want to see pictures of them out and about in your home country. Tweet them with where you took the photo, be sure to include the hashtag #snsdvisualdreams and show everyone how proud you are to be part of this global family called SONE! And don't forget to post your photos after you're done in the official Soshified #snsdvisualdreams thread.
Written by: michaelroni@soshified.com
Contributors: soy@soshified.com, GPTX@soshified.com
Images as credited