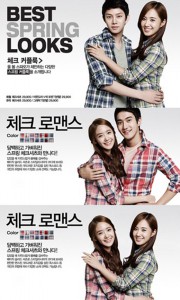 A SNSD fan's surprising photoshopping skills has been garnering attention.
A post under the title of 'A Skilled, Angry SNSD Fan' appeared on an online site, containing a photo where the fan photoshopped recent pictures SNSD took with Super Junior members for a couple photoshoot.
The original photos had SNSD members and Super Junior members with their arms around their shoulders, displaying affectionate poses. The fan that got angry over these photos took out the Super Junior members and placed Yuri and Yoona together, looking as if they were hugging each other.
Netizens who saw the photos commented, "I didn't know there was such a skilled SNSD fan", "Seriously skilled", "I was surprised at such delicate handwork", and, "Seems like they were really angry," expressing their surprise towards the unnoticeable photoshopping skills.
Translated by: ch0sshi @soshified.com
Credit to: bntnews.co.kr (via hankyung.com)
Original link: LINK