Girl group SNSD Taeyeon's 'crazy personal connections' have been revealed.
A video titled 'Taeyeon, Pretty' recently appeared on an online community site.
'Taeyeon, Pretty' had Shinhwa's single 'Pretty' as the background music, along with a photo slideshow of Taeyeon during her days on MBC FM Radio 'Taeyeon's ChinChin'.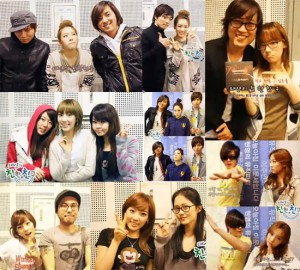 The photos garnered even more attention as it showed her with singer Jang Nara, Kim Dongryul, Moon Heejun, Outsider, Bada, and comedian Kim Shinyoung, revealing her eccentric personal connections.
Also, unlike her showy stage outfits, Taeyeon showing off cute smiles and various comedic expressions wearing more casual clothes in the DJ booth captured netizens' eyes.
Netizens who saw her 'crazy personal connections' commented, "She's close with celebrities from different fields [of entertainment]", "She's pretty and has good personal connections; I'm jealous", "'Crazy personal connection' ender."
Meanwhile, Taeyeon took her first step as a DJ in 2008 alongside Super Junior member Kangin for 'Kangin Taeyeon's ChinChin'. It was then reformed to 'Taeyeon's ChinChin' in April of 2009, and she gained much love as an independent DJ until April of 2010.
Currently, the duet single Taeyeon sang with Kim Bumsoo in January, 'Different', has been gaining much popularity.
Translated by: ch0sshi @soshified.com
Credit to: 홍지예 기자 – artsnews.co.kr
Original article: LINK