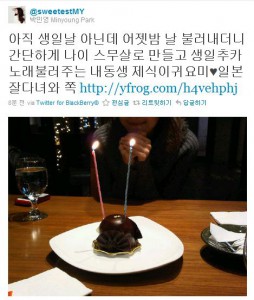 March 4th marks a special day for our very own Jessica as her caring unnie, Park Minyoung, is celebrating her birthday in a few hours!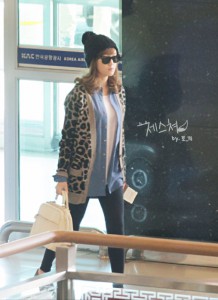 View the rest of the pictures here

Earlier today, Girls' Generation flew to Japan to attend a schedule, and Jessica made sure that she wished her unnie a happy birthday before leaving. Jessica pretended that Park Minyoung was twenty and sang "Happy Birthday" through the phone. Park Minyoung tweeted about it, but deleted it soon afterwards. Luckily, though, some fans have managed to take a screencap of her tweet!
Thanks to oniontaker, we have a translated version of the tweet:
"It wasn't my birthday yet, but my cutie Jeshikie called me out, pretended I was 20 and sang me "Happy Birthday" ♥ Enjoy your visit to Japan *kiss*"
Just to emphasize how close Jessica's and Park Minyoung's unnie-dongsaeng relationship is, here's a cute clip of Jessica and Minyoung back in 2008 (skip to 7:40)!
Doesn't Jessica have the cutest way to wish someone a 'happy birthday'? Don't forget to wish Park Minyoung (@sweetestMY) a happy birthday tomorrow!
Picture credits: Jessture.net
Written by: spiceshoe@soshified.com