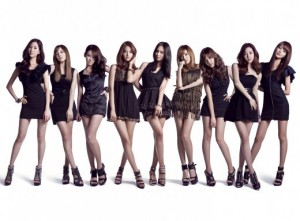 [TV Report Jung Byung Geun] A hit-songwriter, E-tribe praised Girls' Generation.
E-Tribe is a hit-songwriter in the music industry who has written Lee Hyori's 'U-Go-Girl' and Girls' Generation's 'Gee.' This year with DalShabet he has started to be a producer as well. The best idol stars he picks is Girls' Generation.
When he recently saw a journalist he said "In the music industry right now I don't think there are any solo singers who can overwhelm Rain or Lee Hyori" adding "for idol groups, ever since TVXQ, Girls' Generation is the only group who can pull off many different styles perfectly."
He defines someone who can make the best of a music through a harmony of dance, singing, and performance as the best artist. "There are always good songs but if a song comes to match well with the singer's unique concept, then there comes a great power" is what he explains.
E-Tribe said "Girls' Generation, after recording a mega hit with 'Gee', succeeded again with 'Tell Me Your Wish', which was a totally different style. Same goes for 'Hoot' that came out after 'Oh'. It shows how they have advanced and now they just seem to be showing so many possibilities that make people unable to expect their next style."
In addition, he said "Girls' Generation is the only idol group that can pull off many different styles and make the best out of the song ever since TVXQ, adding that 'face of thousands' suits them best."
Original Source: Nate News
Translated by: kwongildong@soshified.com