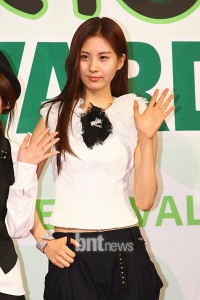 It was recently revealed that SNSD's Seohyun is 9 kg underweight.
On the 5th, Seohyun and Jung Yonghwa got physical exams on MBC 'We Got Married'. During the episode, Seohyun was told that she would have to increase her muscle weight by approximately 9 kg.
Many are assuming that her being underweight is inevitable after SNSD's diet menu was revealed recently on SBS.
SNSD's trainer stated that, "When SNSD is on a diet, they consume approximately 1,500 kcal with seasonal vegetables, 5 pieces of broccoli, 100g of grilled chicken breast, and 150g of brown rice."
Meanwhile, SNSD members expressed their concern for Seohyun after getting the exam results, showing their warm friendship.
Translated by: ch0sshi @soshified.com
Credit to: bntnews.co.kr
Original article: LINK