If you take a two day vacation, you can rest up to nine days during this Lunar New Year holiday. However, this exceptionally long Lunar New Year holiday will not only be enjoyed by office workers. Idols were also guaranteed a longer holiday weekend than before. Since Lunar New Year's Specials for variety programs have been filmed in advance, many idols plan to spend this holiday at home with their families.
We asked "The 3 Agencies" of the music industry, SM, JYP, and YG Entertainment, about their idols' plans.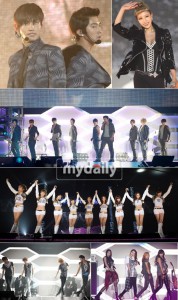 This is a special Lunar New Year holiday for SNSD. That is because they will be able to spend the 3 day national holiday at home with their families. What is so special about spending time with their families? For SNSD, who have been hectically traveling back and forth between Korea and Japan for their promotional activities, having three days to rest is like a dream. All nine members of SNSD do not have any planned schedules and will spend the 3 day vacation together with their families. Since, last year, Tiffany went back to the United States, this year she will spend the holiday in Seoul with her family who have come from California.
Note: This is only the translation of the section about SNSD; for the full article see bellow link.
Translated by: theparkus @soshified.com
Credit to: 강선애 기자 – mydaily.co.kr
Original article: LINK