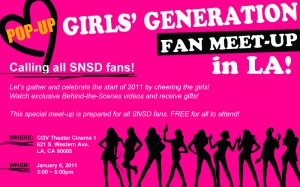 Girls' Generation fans get excited! SM Entertainment is sponsoring a fan meet-up in Los Angeles on January 8, 2011 and is inviting all fans to come join us! The event will be from 3PM-5PM at CGV Cinema! There will be plenty of special media/content from SM Entertainment being shown as well as free goodies to be given out to fans!
All fans are invited to come and show SM Entertainment how much you love the girls! Bring your placards/Girls' Generation support items (lightsticks, banners, posters, whatever you have) to the event and get ready for some fun surprises (yes that means taking out that Soshified SM Town Meet-up shirt and wearing it to the event!)! Let all your friends know and spread the word!
Post if you're going to attend as well!