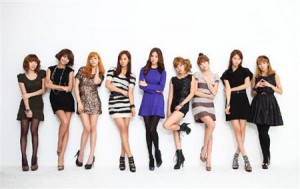 Tiffany (21), of the nine member beautiful-legged Korean girl group SNSD, who paused her activities after injuring her left knee in the middle of last month, will perform again on the 23rd at the broadcasting of FujiTV's morning news program 'Mezamashi TV' (5:25 am). Her comeback announcement was made on the 19th.
SNSD plans on performing their big hit 'Gee' on the program with all nine of them. Because during this one month the eight members had to inevitably continue their activities without her, the members are thrilled. 'We are feeling very happy to perform with nine again after such a long time,' they commented.
SNSD will appear on Asahi Television's 'Music Station Superlive 2010' (7:00 pm) on the next day, the 24th, which will be broadcasted live from Chiba Makuhari Messe event hall. They will color Christmas Eve brilliantly with a medley of Gee and Genie. They will resume work in Korea on the 25th. But before Tiffany's return, the album Hoot, a big hit in Korea, will be released in Japan on the 22nd.
Tiffany fell down on the 14th of last month while performing. It was confirmed that she injured her left PCL (posterior cruciate ligament), and the diagnosis was that a cast would be needed for approximately four weeks.
Translated by: Kkabbekky@soshified.com
together with ramunemarble@soshified.com
Source: LINK