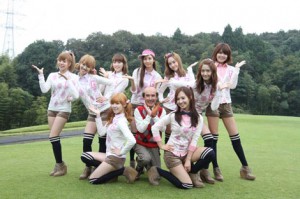 On the 15th it was announced that all 9 members of Korean girl group SNSD would be making a guest appearance in the New Years special drama "SAZAE-San 3", which stars actress Mizuki Arisa, and will air next year on January 2nd. While Namihei is having his first dream of the year, he hits a hole in one on a golf course, where SNSD will be here and there playing beautiful caddies. [TL Note: The first dream of the year is significant in Japan because it is said to tell your fortune for the rest of the year.] This is their first time participating in a drama in Japan, they express their joy to being able to participate in one of our nation's popular works. "It's SAZAE-san's 65th anniversary since its creation! Congratulations. We're happy that we, SNSD, can participate in SAZAE-san, which continues to get a lot of love from many Japanese people."
Due to bad weather, filming had to be stopped because it kept raining. During the long filming, SNSD were able to communicate together with the staff in simple Japanese to end the filming on a good note. They didn't lose focus and their acting, as well as Japanese speech, was almost perfect.
SNSD debuted this September with their single "GENIE" and it entered the weekly single ranking chart at #4. The other day "FNS Music Festival (Kayousai)" was aired and the moment the girls were on the screen, the program received its highest ratings of 29.4%. K-POP girls are the new thing blowing in on Japan's music scene.
Producer of the special drama, Asano Sumi, confidently commented, "While I was searching for someone suitable for the New Year's special, I saw SNSD's cute promotional video, and I felt them sparkle, they were exactly who I would want to see while drinking tea with all of my family." The girls' appearance is short, but it's a scene that leaves a vivid impression.
Translated by: Kanki@Soshified.com
Source: [LINK]