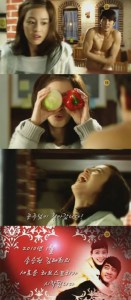 Actress Kim Tae Hee's surprising SNSD "Hoot" choreography change is unfolding as a topic.
On the 16th, MBC TV Drama broadcast a teaser video for "My Princess" with Kim Tae Hee singing SNSD "Hoot" as the cute choreography brought attention.
In addition, she also showed cute aegyo As a sporty look with an eye-catching different appearance earlier, she succeeded in transforming her image. In addition, her urban and demure appearance before changed in this drama to a natural and youthful appearance.
Kim Tae Hee and Song Seung Hun fit together in "My Princess" as the only heir of conglomerate Park Hae Young (Song Seung Hun) and Lee Seol, a female college student transformed to a princess in one day.
It will be broadcast next year, January 5.
Video (Teaser):
[media]http://www.youtube.c…h?v=t3kSZWAs_Ww[/media]
Translated by: Yeji@soshified.com
Credits to: idsoft3@reviewstar.net
Original Article: CLICK