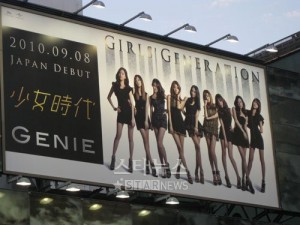 SNSD's Japan debut single "GENIE" has been selected by Japan iTunes as the Rookie of the Year pop album.
iTunes recently released their "2010 Music, 2010 Best" ranking. According to it, SNSD single "GENIE", which was released in September, was selected as "Rookie of the Year Album" in the pop category.
This song was released last year in Korea by SNSD. It's the Japanese version of their big hit "Tell Me Your Wish". Immediately after their Japan release, they ranked #2 on the Oricon daily single ranking chart.
On iTunes "Song With The Most Sales" ranking, KARA's "Mister" ranked 14th, SNSD's "GENIE" ranked 29th and "Gee" ranked 30th.
Translated by: Kanki@Soshified.com
Source: [LINK]