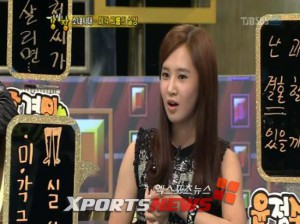 SNSD's Yuri took part in the upcoming episode of SBS 'Strong Heart'. She talked about an episode that happened when she visited an amusement park, known for having a lot of people.
Yuri stated, "This past summer, my members and I escaped from our dorm to play at an amusement park without our manager knowing." She revealed that the other members were Yoona, Jessica, Sooyoung, and Hyoyeon.
She continued, "We hid our faces, but it seemed like people knew we were SNSD and started recognizing us. After thinking about it, the five of us ended up going around with odd disguises."
Due to Yuri's disguise, she was able to play freely at the amusement park. As a celebration of their successful retreat, Yuri revealed a photo they took with their disguises.
This episode of 'Strong Heart' is scheduled to air on December 7th.
Translated by: ch0sshi @soshified.com
Credits to: 엑스포츠뉴스 – 원민순 기자
Original Article: LINK