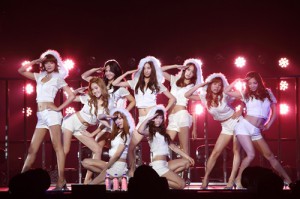 33 artists have been announced for TV Asahi's "MUSIC STATION SUPER LIVE 2010", which will be broadcast on Friday, December 24th.
"MUSIC STATION SUPER LIVE" is an established annual end-of-year program with the top artists of the year. This year 33 artists were selected: aiko, Arashi, Ikimonogakari, AKB48, EXILE, KAT-TUN, KARA, Kanjani8, KinKi Kids, Koda Kumi, KOBUKURO, Saito Kazuyoshi, JUJU, SNSD, Superfly, SMAP, Tackey & Tsubasa, TOKIO, DREAMS COME TRUE, Nishino Kana, NEWS, Hamasaki Ayumi, Perfume, FUNKY MONKEY BABYS, Fukuyama Masaharu, V6, Hey! Say! JUMP, Porno Graffiti, moumoon, YUI, Yuusuke, Yuzu and L'arc~en~Ciel.
This program will broadcast live from Chiba's Makuhari Messe Event Hall from 19:00 to 23:10 (7pm~10:10pm). The program's official site is taking applications for the audience viewers, so if you want to see these wonderful artists in person, definitely apply. The deadline is December 6th.
MUSIC STATION SUPER LIVE 2010
TV Asahi December 24, 2010 (Friday) 19:00~23:00 (7pm~10:10pm)
Translated by: Kanki@Soshified.com
Source: [LINK]