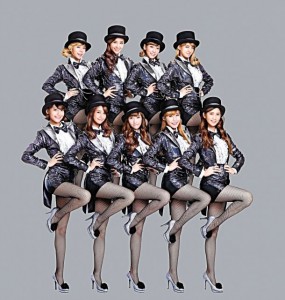 SNSD and Tokyo's SHIBUYA109 have put their collaboration plan into practice. The collaboration is called "109 Girls' Generation Xmas".
In this Christmas collaboration, the 9 members of SNSD are displayed on the front of 109's cylinder building. The huge multicolored illumination of SNSD will be displayed from November 30th to December 25th.
SNSD's Comments
We, SNSD (Girls' Generation), are appearing on the cylinder of "SHIBUYA109", which is a symbol of Shibuya and girls fashion.
We go out shopping often and one of our favorite places is Shibuya, so we're extremely happy!
There are also 9 members of SNSD, so it feels like fate that we get to collaborate with "09".
It would be great if this could make everyone's Christmas a little more fun and bright.
This time our theme is "line dancing" and we were particular about the fashion during this photo shoot.
Definitely come out and see it!
And, everyone please have a fantastic Christmas.
Merry Christmas!!
Translated by: Kanki@Soshified.com
Source: [LINK]