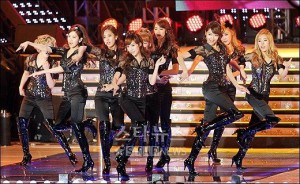 On the 28th, SNSD's "Hoot" was awarded 1st place with the "Mutizen Song" on "Inkigayo" (SBS).
SNSD first won first on the 7th. The following week on the 14th, 2AM took the top seat away from them. Continuing from the 21st, this is the 2nd consecutive week SNSD has achieved 1st place.
With this, SNSD has acquired three 1st place finishes on Inkigayo. Since the girls have won three times, they are not eligible to win again.
Translated by: Kanki@Soshified
Source: [LINK]