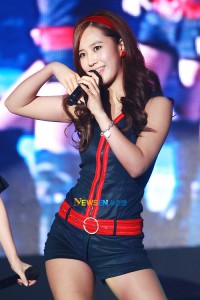 Super Junior's Eunhyuk and SNSD revealed their first impressions of one another.
Eunhyuk and SNSD appeared on the recently recorded KBS 2TV's 'Nocturnal' [or Night Star?], where they talked about when they first met each other.
Hyoyeon stated, "When Eunhyuk first came in as a trainee, he was extremely nervous." She confessed, "As soon as he saw me enter the practice room, he would get up and greet me formally."
To this, Eunhyuk revelead, "SNSD's first impression wasn't much different. Yuri, especially, used to imitate dinosaur sounds before she debuted."
Eunhyk stated, "Before our debut, our management company gave trainees homework to 'prepare a talent' every week, meaning 'prepare a song and dance you are confident in'." He further explained, "But Yuri was the only one who misunderstood it as talents that stars show on variety programs, practicing her impression of a dinosaur."
Yoona added, "Along with the dinosaur sounds, Yuri used to show off other odd talents," and requested that she reenact the same situation.
This episode is scheduled to air on the 28th at 11:15 PM (KST).
Translated by: ch0sshi@soshified.com
Original Article: LINK