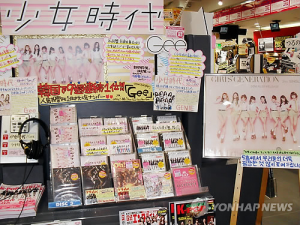 On the 20th, SNSD released their 2nd Japanese single "Gee", which entered Oricon at rank #2. On its first day it sold 28,838 copies, placing at rank #2 on Oricon's Daily Single Chart.
They beat their previous record and are still the highest rank Korean girl group. Before SNSD had released their Japanese debut single "GENIE" on September 8th and it entered Oricon's daily single chart at rank #5. The next day "GENIE" had a one up and moved to rank #4 on September 9th and then on the 11th moved up to rank #2. Recently, the Japan Record Association awarded "GENIE" a gold disc for selling over 100,000 copies.
Soon they will be on numerous of Japan's popular music programs. On the 22nd SNSD will be on TV Asahi's program "Music Station". On the 24th they will be on NHK's "Music Japan" and on the 25th they will be on FujiTV's "HEY! HEY! HEY!".
They will also release their mini album "Hoot" in Korea on the 27th. On the 29th they will have a comeback and be on KBS2's "Music Bank"