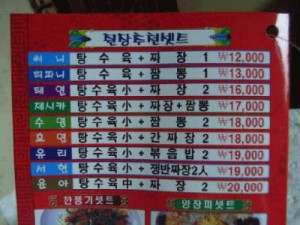 T/N: Order of Sequence (Cheapest to Most Expensive):
Sunny, Tiffany, Taeyeon, Jessica, Sooyoung, Hyoyeon, Yuri, Seohyun, Yoona
SNSD Set Menu, Yoona's set is the most expensive
Chinese SNSD Menu has appeared.
In the latest Internet bulletin, the topic of the Chinese restaurant SNSD menu, with a picture, has attracted widespread attention. The names of the 9 SNSD members with different sets have attracted attention.
Typically, in a Chinese restaurant the combination of cooking and eating are prepared as a set menu, as using the SNSD 먹튀검증 names is remarkable. SNSD menu brought in interest and simultaneously increased the number of questions about the order of the prices.
The cheapest set menu is 'Sunny Set'. With just Tang Soo Yuk (Sweet and Sour Chicken) and Jajangmyeon (Black Bean Sauce Noodles) is sold as 1200 won ($12). The most expensive set is 'Yoona Set' with 2 sets of Tang Soo Yuk and Jajagmyeon , which is sold as 20000 Won ($20).
Netizens are showing interesting reactions the Chinese SNSD menu set. "The set menu is probably reflected in what the owner likes.," as they left comments like that as they showed great interest.
Translated by: Yeji@soshified.com
Credits: 투데이코리아=이나영 기자 Reporter Lee Na Young
Original Article: CLICK