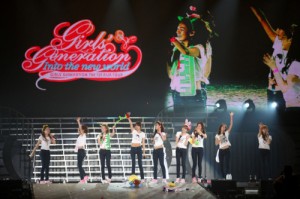 SNSD was a knock out in Taiwan.
SNSD held their solo concert "The 1st ASIA TOUR CONCERT "Into the new world"" at the Taipei Arena in Taiwan on the 16th and 17th. Around 24,000 people attended to show their support.
This concert was held in Taiwan's large venue, the Taipei Arena. The tickets to both of SNSD's concerts were sold out, establishing a record for having the most people in attendance for a foreign female artist.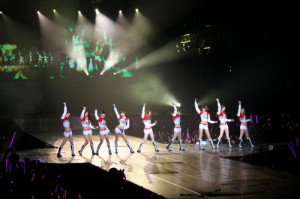 SNSD arrived in Taiwan for their concert on the 15th and around 500 fans gathered at the airport to see them. The surrounding areas were thrown into chaos. Taiwan's media also broadcasted that SNSD had arrived and reported on even the littlest things the members would do. Also on the 17th just before the performance, there was a press conference with around 100 people in attendance, displaying great interest in SNSD.
During this concert, SNSD naturally sang their hit songs like "Gee", "Gine" [sic], "Kissing You" and "Oh!". They also had solo stages where you could feel each member's individual charms. They performed a total of 36 songs. SUPER JUNIOR's Leeteuk and Donghae also participated as special guests by rapping in Yoona's song "Introduce Me To A Good Person" and Jessica's "Barbie Girl".
In addition to successfully finishing their first solo concert in Taiwan, SNSD will release their second single "Gee" in Japan on the 20th.
Translated by: Kanki@Soshified.com
Source: [LINK]