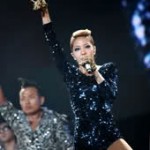 "SM Town Live 2010 World Tour in LA" had a press conference on September 5th at the Staples Center in Los Angeles. Korean reporters , American music site "American Music Channel" and otherswere in attendance. The Interview was with 11 SM Entertainment singers, BoA, former H.O.T member Kangta, DBSK's Yunho and Changmin, Super Junior's Leeteuk and Siwon, SNSD's Sooyoung and Tiffany, SHINee's Onew and Minho, and TREX[sic] member Jay.
—About their performance at the famous Los Angeles Staples Center
BoA: Ever since I heard about it, I've been really excited. It's the first time we are able to perform together at a place like this, so it makes me all the more happy.
Kangta: When I was performing with my group H.O.T we weren't given this chance, so I'm happy I get to stand on this wonderful stage with my juniors. I'm nervous and worried, but more than that I'm looking forward to it and am happy I can perform her.
—The fact most in the audience are not Korean-American's, it seems this has a big significance.
Yunho: We are able to make our culture widely known. Still, the fact that various people from different countries have an interest (in us), makes me very happy.
Leeteuk: I feel very happy and honored. Since there are fans all over the world cheering for us, from now on I feel like I need to do my best even more.
—How did you feel about meeting the fans at the airport?
Changmin: I honestly wasn't expecting it.I could even see the crowd of people who came to see us from a distance. Our languages are different. Since they don't really have a chance to get to know us, I was really surprised, but I was also grateful that they came to welcome us.
Onew: I was concerned and thought to myself, "I wonder what it will be like when we arrive in America", but (when we arrived) I was happy that so many fans came to see us. I hope they continue cheering for us after this too.
—SNSD has just completed a successful debut in Japan, but do you plan on advancing to America?
Tiffany: I want to do activities in America as well. Personally, I also want to try acting. I have various anticipations for overseas activities. I feel that music is a common language throughout the world.
Siwon: All of us have a dream that, if given the chance, we would like to try advancing to America.
Translated by: Kanki@Soshified.com
Source: [LINK]