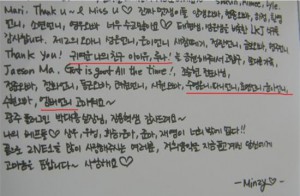 2NE1 Gong Minzy talked about her friendship with SNSD.
Gong Minzy released her first studio album "To Anyone" , in which she wrote her thanks in hand in the 'Thanks to' to SNSD members Sooyoung, Tiffany, Yoona, and Hyoyeon.
The friendship between 2NE1 and SNSD was even more eye-catching in the sense that they have to win against each other. Being two different rival groups, their friendship is even more surprising for fans.
Gong Minzy, Hyoyeon, Sooyoung, Tiffany, and Yoona are members of 'Moonmien'(Christians engaged in Culture, media and entertainment). They are a small, devout Christian group with worship and prayer meetings on a regular basis.
[Omitted Extraneous Information]
T/N: The second underlined line in the image says

"Sooyoung unni, Tiffany unni, Hyoyeon unni, Yoona unni…thanks!"
Translated by: Yeji@soshified.com
Credits to: 전원 wonwon@newsen.com
Original Article" CLICK