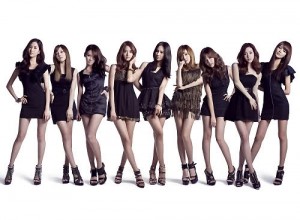 SNSD who has advanced to Japan's music market discloses that, "There are more female fans than male fans".
On the morning of the 10th, SNSD performed on Japan's FujiTV's public entertainment program "Tokudane!". The host introduced the group by saying, "In Korea they placed first on the a music chart for 9 consecutive weeks, they're the best girl group".
After singing their Japanese debut song "GENIE", SNSD members had a conversation with the host. When asked what the differences were between Korea and Japan activities they said, "In Korea there are more male fans, but in Japan there are more female fans. We think it's interesting that people cosplay us." [Note: Cosplay stands for "costume" and "play" it is when someone dresses up like someone/thing.] They were also asked how they maintain their figures and disclosed that "In the morning and evening we stretch for 10 minutes. We also do hip baths." [Note: Hip baths are when you bathe with half of your body.]
After the release of SNSD's Japanese debut single "GENIE" on the 8th, they entered the ORICON daily ranking charts at #5 and are putting up a good fight.
Translated by: Kanki@Soshified.com
Source: [LINK]