Son Anna and SoShi's Yuri are Close SM Friends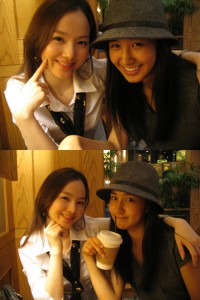 On the show, "The Qualities of a Man," Son Anna was disqualified for the choir they were recruiting for. However, Son Anna will be debuting as a singer soon under the name Anna. Her photo with SNSD's Yuri was revealed on the internet.
Anna gained a lot of interest from the netizens since her appearance on KBS 2TV's "Happy Sunday – The Qualities of a Man," and her pictures from her trainee days were revealed.
One of those pictures shows herself with SNSD's Yuri, and is gaining explosive interest.
In 2000, while Son Anna was still in middle school, she won the prize for SM's singing contest, and was a trainee at SM until 2004. At the time, she went through tough times and built friendships with SNSD's Yuri, Sooyoung, DBSK's Jaejoong, and others.
They are close enough for Yuri to mention Anna's name in one of her album "Thanks to" sections. They say that Yuri was apparently also the most active in supporting and encouraging Anna for her debut.
Son Anna's management company said, "Anna is a newcomer with 10 years of training with vocal skills, dancing skills, and good looks. She has a good foundation with her explosive vocals, and adding her other skills and charisma on top, she is going to dominate the stage."
Son Anna featured in Crown J's "Kevin is a Player" in 2008.
Anna's title song, "Just 5 Minutes" and her couple song, "Live, Can't Die" will both be revealed on September 10th.
*************************
Source: ENS
Translation: taengbear@soshified.com