The Korean Idols Who Took Over the "City of Angels"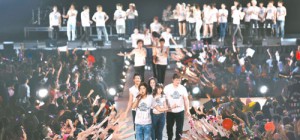 At the LA Staples Center in USA on Sept. 4th, during the SM Town Live World Tour. SNSD, Super Junior, and other SM Entertainment artists are seen here singing their last song, "Light", receiving cheers from the audience.
The 56th song on this night, HOT's "Light", rang throughout the stadium to all the seats in the audience which were all filled even up to the topmost floor. All the members in the audience got up and sang along in Korean to the 43 singers with beautiful harmony on stage. The Korean singers, who were all on the stage of their dreams, cried tears.
This was all at the Staples Center in LA, where the Grammy awards are held. This concert venue was where Michael Jackson's memorial concert was held, and also where Beyonce, Madonna, and other super stars have performed before. On September 4th, K-pop had made history at the very same place.
The SM Town Live World Tour LA concert was held, and BoA, SNSD, Super Junior, Shinee, f(x), Uknow Yunho, and other SM Entertainment singers were in attendance. The fans cheered with all their might during the 4 hours of Korean music.
3 hours before the concert started, fans of many background and colors started to gather. 50% of the tickets for this concert were sold to non-Asian fans, and besides fans from the obvious countries like USA and Canada, there were many fans that came to see from Spain, Denmark, and other countries.
Trevor Phillis(18), who came with SNSD face paint, said, "I learned of Korean singers through Youtube this past May, and SNSD's dances and songs were enough to make my eyes go wide."
Stephanie Innis(20) said, "I came to know about K-pop through a friend, and I'm enjoying and listening to it through the internet."
During the afternoon of the concert date, around 2000 American fans held a voluntary fanmeet at the LA Convention Center near the concert venue. It was a fanmeet that formed by one American fan gathering other Korean music fans on facebook. [they are probably talking about the SM Town fanmeet, not the SSF fanmeet]
This concert of hallyu idol stars in America was being prepared since over a year ago, but it has been a rather easy entry from the beginning. Although tt was being prepared for with half doubt, 15,000 tickets were all sold out within a week this past July. Tickets were on average $120 each, and a total of $1,800,000 was made just from ticket sales. From the confidence from the ticket sales, a total of 250 people, including all the singers and staff, were flown to LA on a chartered plane. It was the first time Korean singers were every flown to America on a chartered plane for a performance. .
Each group showed off their hit songs and dances, solo performances, and drama OSTs. Jessica and Krystal, and few others went beyond their group performances and did a duet piece.
There was nothing different about the enthusiastic atmosphere in this place than the concerts in Asia. The fans dressed in colors to support SNSD or Super Junior or others, and waved balloons and light sticks. The long concert came to a close when fans' cheers were loud enough to make people to go deaf.
Idols, who have represented the Korean music industry for the past 10 or so years, are finally ready to stand on international stages. The concert was able to run smoothly thanks to members of f(x) who are able to communicate in Mandarin and English, and other members in each of the groups that are able to speak foreign languages.
*****************************************
Source: mk news
Translation: taengbear@soshified.com