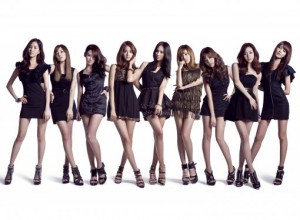 Girls' Generation, whom are causing sensation inside Japan and planning for the release of their very first Japanese Single album, shared a story about them being stuck
with a lightning inside their plane, stating as "There was a sign of a jackpot inside Japan".
Girls' Generation, had an interview inside their plane heading to LA from Incheon Airport on 2nd. They have shared their stories about 'accidents' when they were heading to Japan for their showcase, and followed by their music video recording studio.
Girls' Generation's plane, that was heading to Japan for the first time for their showcase on August 22nd, was hit by a lighting after its takeoff.
Prior to this, while they were filming a music video for their second Japanese single album, the recording studio's transformer was hit by a lighting so commotion was from the blackout.
Adding to that, on August 25, which was the day of Japanese showcase, the entire passageway's lights went off while they were coming out from the waiting room.
Tiffany reminisced the situation by stating "I was scared since the plane that we rode in for the first schedule in Japan was hit by a lightning, but I thought of it as a sign of a big hit and did my best on the showcase."
Sooyoung stated "Just like from the movie, the plane was violently shaking after the takeoff followed by the announcement inside the plane. I think of this as a sign of a big hit."
Taeyeon also stated their jinx "We've always experienced blackout incidents during our music video filming, and yet we've had another one at the music video filming studio for our Japanese single album."
Meanwhile, Boa, Super Junior, Girls' Generation, f(x), and total of 40 SM Entertainment (aka SM) artists were arrived at LA Tom Bradley International Airport on 3rd, 10AM for their upcoming 'SM Town Live '10 World Tour in LA' concert by a chartered jet.
SM, who chartered a Boeing's 747-400 model were known of paying 10 million wons to the airline company. So far, SM is the very first entertainment company chartering a plane for the concert.
LA(America)|SportsDonga Kim Wongyum Reporter (gyummy@donga.com)
Translated by: soCOOL@soshified.com
Credits to: Kim Wongyum Reporter (gyummy@donga.com), http://news.donga.com

Original Link: CLICK
——————————————————————————————————-
And YES INDEED, I was on scene at the LAX TBIT
..
Goodness, the whole exitway was crowded in a matter of seconds, and after our girls' came out, other artists had hard time getting out due to unorganized fans threatening the safety concerns of other SM artists. Only if the rules and simple manners were correctly followed, it would've been much more better experience for both fans and SM artists. But woot, SMTOWN CONCERT in 2 days! YES! Hope to see all of you who are planning to attend the concert at the meetup