Lee Miyoung Reporter (mycuzmy@joynews24.com)
Group singers TRAX will begin their promotion with the active support of Seohyun from Girls' Generation.
TRAX, which attracted attention with the release of their title song "Oh! My Goddess", will release their second mini-album on 6th and start promotions.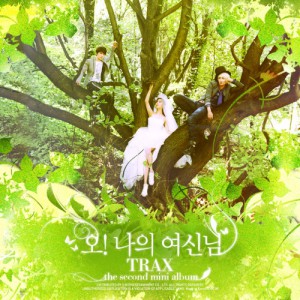 Seohyun made a special appearance on the teaser, music video, and as a model on their album cover. Seohyun has transformed into a Goddess who is wearing a wedding dress in the album cover, and created a dream-like atmosphere.
For this album, the two members of TRAX, Jay and Jungmo composed the title song "Oh! My Goddess", and enthusiastically participated in composing and writing the lyrics for their song.
… (This part was omitted due to no relevance with Seohyun or other SNSD members)
TRAX will release their music video for "Oh! My Goddess" on the afternoon of the 2nd, and will be starting their promotions after having a comeback stage on 3rd, at KBS 2TV "Music Bank".
Translated by: soCOOL@soshified.com
Edited by: cedge@soshified.com
Credits to: Lee Miyoung reporter(mycuzmy@joynews24.com), http://joynews.inews…

Original Article: CLICK
Oh and guys, here's the FULL MV of Oh! My Goddess by TRAX
[youtube_wide]RXk9Th9gsjM[/youtube_wide]