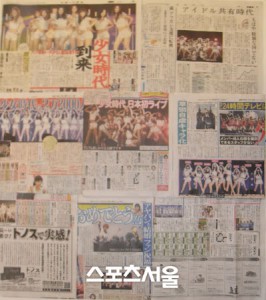 "SNSD. Japan possessed"
After female 9-member SNSD ended their first Japan showcase, the Japanese press was scrambling to try to introduce SNSD, showing hot interest in them. On the 25th, at Tokyo, Japan, they conducted a total of 3 performances. After SNSD's first showcase ended, Japanese newspapers showed massive respect to them, as they made the headlines. On the day of the showcase Japanese NHK 9 City News introduced SNSD, shown through Fuji TV, Nihon TV, TV Asahi broadcasting SNSD's every move closely through cameras.
Making Japan's national broadcaster NHK celebrity news headline is a very unusual deal. In this broadcast, it followed SNSD's dance in order for Japanese females to see their image and showcase, stretching the queue of SNSD fans in Japan, all the way from Korea.
Local newspapers about SNSD were exploitative. The Yomiuri newspaper "Year 2009 Korea broadcasted music, for 9 weeks straight, No. 1, record top idol, SNSD debuts" was reported. Sankei Sports "Korea No. 1 female Group SNSD mobilizing 22,000 people had largest debut". Hochi Sports said "Dominating Asia, Korean female 9-member group Japan's first live nationwide gathers female students, who, before it started, shook pink fan light showing SNSD era".
Translated by: Yeji@soshified.com
Credits to: 박효실기자
Original Article: CLICK