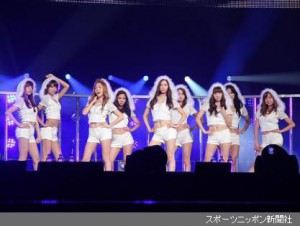 On the 25th, the popular Korean girl group, "SNSD," performed their first performance in Japan at their showcase event held in Tokyo's Ariake Colisseum.
They sang 5 songs passionately including their Japanese debut single that goes on sale in September, "Genie." On this day, with matching beautiful legs and unison dancing, all 9 members also showed off their long legs by wearing hot pants (T/N: Short shorts) and shirts that showed their amazingly pale navels.
There were about 7,000 fans who joined for the first showing. Sooyoung, who is the most proficient in speaking Japanese, said with a smile, "I'm really happy that there are this many people who came to see our first live in Japan." Through the DVD invitation ticket, there are an estimated 22,000 fans for all 3 performances.
Translated by: arghninja@Soshified.com
Source: [LINK]
Side note: The other 4 songs that they seemed to have sung are: Oh, Run Devil Run, Into the New World, and Gee.