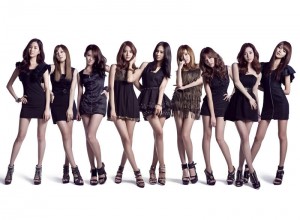 SNSD releases there Japan debut single "Genie" on September 8th
The music site BIGLOBE released a "BIGLOBE MUSIC" K-POP special which announced a popular K-POP artist ranking. This ranking was started on August 12, 2010 and the results are based off of the votes from the users of the BIGLOBE site.
"BIGLOBE MUSIC" Popular K-POP Unit Ranking (Survey period: 2010/8/12 10 o'clock~ 8/16 10 o'clock)
1st: SNSD (20,212 votes)
2nd: Wonder Girls (9,598 votes)
3rd: SUPER JUNIOR (1,717 votes)
4th: SHINee (944 votes)
5th: BEAST (417 votes)
6th: BIGBANG (364 votes)
7th: f(x) (351 votes)
8th: KARA (313 votes)
9th: 4Minute (289 Votes)
10th: BROWN EYED GIRLS (254 votes)
Explanation/Comments
1st place goes to the dazzling 9 member group Shoujo Jidai (GIRLS' GENERATION, So Nyeo Shi Dae) who released their DVD "SNSD Arrival~Arrival in Japan Commemoration Disc~ New Beginning of Girls' Generation" in Japan on August 11th. In 2009 they set a record for winning 1st place on a music program for 9 consecutive weeks. They have great singing abilities and coupled with that their synchronized dancing with their beautiful legs is great. Aside from Korea they are also very popular in Taiwan, Thailand and other places in Asia. They will have a debut event on August 25th at Ariake Coliseum where 10,000 people are invited. On September 8th they will release their Japanese single "Genie". There Japanese activities in Japan are getting up to speed.
There were many comments collected from female teens evaluating their dance and singing. There were also comments from people who have seen them on variety shows. Even though they haven't debuted in Japan yet, fans have gotten information from the internet and it seems there are already many fans. We gathered around 20,000 votes in 4 days. And since there were many English comments, It seems not only Japan is paying attention to SNSD's Japan debut, but many nations.
Furthermore, BIGLOBE MUSIC has opened a K-POP special site due to the upsurge of K-POP in Japan. The site will mainly feature introductions to artists releasing CDs in Japan. Hereafter, related news articles will be on the site and related contents will be available for purchase.
*SNSD's main comments
(Female teen from Osaka): "Everyone is cute and what they say is interesting! Their singing is exceptionally skilled, let's get along well since this is a talkative group."
(Female teen from Miyazaki): "Their singing and dancing is amazing!!! Also, they have great legs!!!!!!"
(Female teen from Chiba): "They have 9 members and at first it seems like a lot, and like there wouldn't be any balance in the group. The large number of people they have is their strength."
"In these past few years many female idol groups have debuted like, KARA, T-ara, 4Minute and other groups but I think (SNSD) is ahead of the pack in comparison to these groups. My impression of the smash hit gee is strong."
(Female teen from Hokkaido): "They're skillful singers, their style is great, they have cute and cool dances that are skilled!! They're practically flawless, but I like seeing their faces on variety shows! ♪"
(Female teen from Okayama): "SNSD is the best ★Their singing is skilled, their dancing is also skilled*There is no one else as radiant as them"
(Female teen from Saitama): Girls also want their looks and dance skills. Their songs are easy to relate to! Right now, it's SNSD^^" (Note: She says this in Korean)
Survey Summary
Examination Method: A survey intended for BIGLOBE MUSIC users
Survey URL: http://music.biglobe…

Survey period: August 12, 2010 10am ~ August 16, 2010 10am
Votes Cast: 33,090 votes
Voter attribute: Sex- Males 47.2% Females- 52.8% Average age: 22.6 years old
Translated by: Kanki@Soshified.com
Source: [LINK]