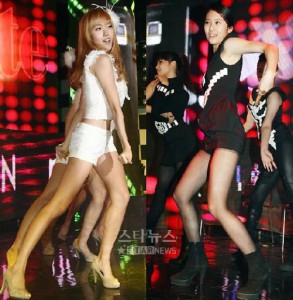 Sisters Jessica and Krystal will show a different side of their close sibling relationship by singing a duet together.
Jessica and Krystal will have a duet stage on August 21 at the Seoul Olympic Stadium where the 2010 SMTown Live concert will take place.
This is the first time Jessica and Krystal will be onstage singing a duet together, though the two were both at the "Chocolate Love" showcase with other members of SNSD and f(x).
A SM Entertainment representative talked with Starnews over the phone on the 5th and said, "Jessica and Krystal have each performed at the same concert before, but this is their first duet stage."
The two sisters have been labeled as the "superior genes" of the entertainment business, and their joint stage will show fans a different side of them.
On the other hand, this concert will also consist of SM artists such as Kangta, BoA, Super Junior, SNSD, SHINee, f(x), etc.
source: http://star.mt.co.kr…

translation: soshi00@soshified.com