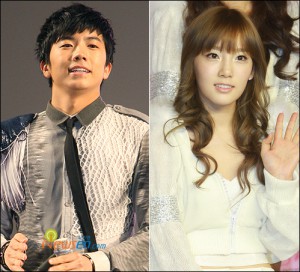 2PM's Wooyoung and SNSD's Taeyeon will leave the MC position of KBS 2TV's 'WinWin'. The exact date of their leave is undecided.
One of the broadcasting staff stated on the 28th, "Wooyoung and Taeyeon will leave soon, and we are currently looking for their replacements."
Wooyoung will be leaving due to 2PM's busy schedule, and Taeyeon due to SNSD's Japanese promotions.
Wooyoung and Taeyeon were part of the original members of 'WinWin' which first aired in February, and led the program with main MC's Kim Seungwoo, Choi Hwajung, and Kim Shinyoung. Wooyoung exceeded the expectations as an entertainment idol with his witty comments, and Taeyeon, who had prior experiences of positions like radio DJ, took part in the big popularity of 'WinWin' with her smooth MCing.
Credit: Daum
Translations: typicalharu@soshified.com/forums