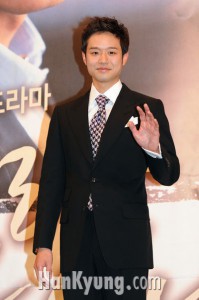 Actor Chun Jungmyung picked girl group SNSD's Yoona and Taeyeon as his ideal types.
On the 26th, Chun Jungmyung appeared on KBS 2TV 'Yeoyumanman' and revealed that he's studying English.
When asked who his ideal type was, Chun Jungmyung attracted attention by stating, "I don't have a particular ideal type but I like girls groups."
At the request to pick his favorite member out of the girl groups, Chun Jungmyung said, "Among SNSD's members, I like Yoona and Taeyeon best."
He gave a surprising confession, "Yoona is feminine and innocent while Taeyeon is cute and adorable. Since their charms are different, I like them both."
On this day, Chun Jungmyung revealed an episode of a kiss scene with Moon Geunyoung.
Article by: The news team@Hankyung.com
Translated by: Hyunjin808@soshified.com/forums
Original article: [Click]