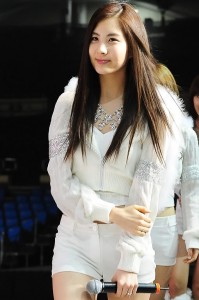 Seohyun of Girl group SNSD was chosen as no. 1 in a survey as "the singer most likely to pursue a legal profession."
From the 6th to the 12th, Bugs Music conducted a survey through Bugs voting, in which Seohyun, Narsha (Brown Eyed Girls), Baek Ji Young, Son Dam Bi, TOP (Big Bang), Choi Si Won (Super Junior) were the popular singers who went on to the list.
Seohyun who ranked no. 1 won a total of 1007 from the 1652 people who voted, 61% of the votes. Choi Si Won ranked no. 2 who won 336 votes, 21% of the votes, a considerable gap from no. 1, Seohyun of SNSD.
A number of netizens revealed, "Through broadcast, Seohyun always care for the public and has the personality that makes her fit into the law career." "Master of law-abiding spirit and always read a lot of books,".
Translated by: Yeji@soshified.com
Credits to: 최준용 기자 yjchoi01@
Original Article: CLICK