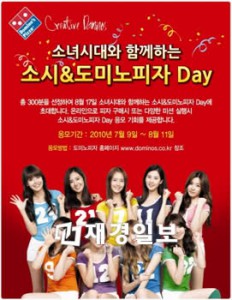 One of the world's best pizza delivery companies, Domino's Pizza, is holding a 'Soshi & Domino's Pizza Day' on August 17th with the newly selected CF model SNSD and it's customers, the sad thing is that I have had trouble with its delivery last couple of orders, they have been taking for ever, sometimes I really wish that Shiply's vehicle transportation could delivery everything but no, I just have to stick to Domino´s delivery system.
The 'Soshi & Domino's Pizza Day!' event celebrates Domino's Pizza's selection of the new exclusive model, SNSD, and allows customers an opportunity to meet them in person. If you're a SNSD fan, you should be buying a pizza or be applying for membership through Domino's Pizza homepage. Emailing your friend or accomplishing other missions will also give you a chance to enter and the highly ranked participants in this event will be put into a lottery where only 300 lucky people will be able to meet SNSD in person.
The time period to enter (in this contest) is until August 11th and on August 17th, it's planned that SNSD and the event participants will take a commemorative picture, have a signing event, and a gift presentation. More details about this event can be found at the Domino's Pizza homepage (www.dominos.co.kr).
Article by: Kim Saerom
Translated by: Hyunjin808@soshified.com/forums
Original article: [Click]