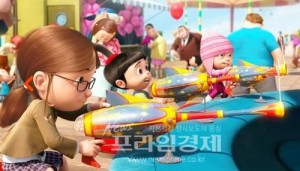 Producers came together and created a unique 3D animation with good characters and a spectacular and touching adventure that brings laughter. "Super Bad" (Despicable Me) opened last week in the United States, throwing a big difference with "Eclipse" in the American box office as #1.
"Super Bad" is about a bad guy "Gru" who wants to steal the moon as part of ambitious plans, in which along the way he adopts three girls, as they plan a fantastic adventure and heartwarming 3D animation.
[Omitted extraneous information]
Meanwhile, in Korea, one of the adopted girls, the oldest who has sense and is smart t, is acted by SNSD Taeyeon, and the playful second oldest girl is acted by SNSD Seohyun, in which they appear with their voices. Many Korean fans have been waiting for the movie.
Translated by: Yeji@soshified.com
Credits to: Reporter Kim Hyun Kyung 김현경 기자/press@newsprime.co.kr
Original Article: CLICK