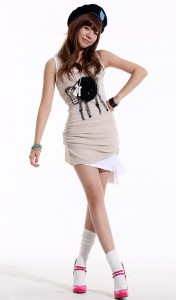 SNSD's Sunny reunited with 'Invincible Youth' members in Japan.
Recently, SNSD's Sunny, who withdrew from KBS 2TV 'Invincible Youth', participated in the filming of 'Invincible Youth' from June 29th at Hokkaido, Japan. It was approximately 40-something days since she withdrew.
On the 5th, one official said, "Sunny did a surprise appearance on 'Invincible Youth'. She reunited with the members after a long time and did the filming joyfully."
With a Japanese advancement ahead, Sunny explained that through the local fans' high interest, she was able to participate. With an appearance on one episode, Sunny spent a joyous time with the members in Japan for 2 nights and 3 days.
Particularly, it is said that Hyomin, who was her close friend in 'Invincible Youth', teared up once she met up with Sunny.
It is planned that this Japanese farming experience will broadcast on the 16th and 23rd.
Article by: Kim Hyungwoo
Translated by: Hyunjin808@soshified.com/forums
Original article: [Click]