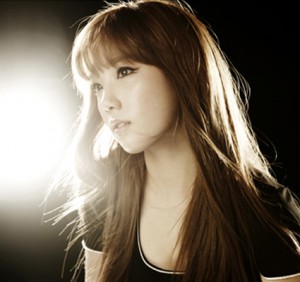 [Asia Today = Kim Soojin reporter] Girl group SNSD's leader, Taeyeon (22), during Music Bank, expressed her displeasure with the program and it's becoming a topic online.
On the 25th at 5:45 PM, The Looking Back on the First Half (of the year) was shown on KBS 2TV's music program, 'Music bank'.
Winning 1st place for the first half of the year, SNSD's Taeyeon gave her acceptance speech and at the end of it, said "I hope Music Bank creates an environment for singers to do better," leaving a meaningful remark. After that, Music Bank ended their live broadcast and netizens are arguing about Taeyeon's remark.
According to the account of a fan that was present at the scene explained, "On this day, Taeyeon, while doing a stage rehearsal, requested for help from staff because the sound in her in-ear (the earphone in her ear) wasn't playing and she showed displeasure towards the staff after two frustrating recordings.
In addition, "Even though the staff were clearing the stage, Taeyeon, still frustrated, refused to leave the stage."
Netizens argue, "I understand that Taeyeon is frustrated but I think it was careless of her to be saying those kinds of things on a live broadcast", "She should've watched her mouth", "A singer just talked about the stage environment, don't you think these reactions are a little too sensitive?" and the arguments continued with "How frustrated must she have been to have gone that far", "If the in-ear was indeed broken, Taeyeon's remark shouldn't become an issue".
Article by: Kim Soojin reporter@asiatoday.co.kr
Translated by: Hyunjin808@soshified.com/forums
Original link: [Click]
Translator's note: It may seem confusing in the article but it's implied that the staff didn't fix/change her in-ear, which is why Taeyeon was so displeased.