It is now possible to see Jung Yonghwa and Seohyun's 'Show! Music Core' special MC appearance on 'We Got Married' as well.
Nicknamed the 'YongSeo' couple, C.N Blue's Jung Yonghwa and SNSD's Seohyun, who have been showing fresh affectionate images on 'We Got Married', was Music Core's special MCs. SNSD's Tiffany, who have been away for three weeks along with Yuri, was not able to resume her activities as the MC due to health reasons, and the 'YongSeo' couple lent a helping hand to the sister-in-laws.
To this, netizens have anticipated, "Wouldn't we be able to see the couple's MC stage on 'We Got Married' as well?"
Kang PD of 'We Got Married' stated, "There was no official filming of the show. However, the staff could not miss the chance to see them at an unexpected place, so two 6mm cameras were stationed to film."
He also added, "The cameras were present, but there was no missions given to them. Both of them are rookie MCs, so we don't want them to feel pressured and make mistakes. We want to obtain as many images as we can, but we don't want them to cause 'Music Core' trouble just for our program. We tried to show their natural selves in this filming."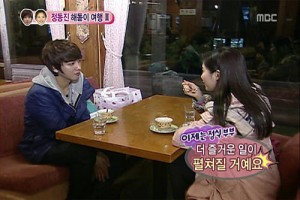 Kang PD mentioned, "The two always plan something beforehand even if the staff doesn't, so we don't know if they planned something themselves already. The couple always exceeds our expectations on filming."
'YongSeo' couple's 'Music Core' MC appearance will not take up a big part of the episode, according to the staffs. 'Music Core' with Jung Yonghwa and Seohyun's special MC appearance aired on the 19th at 4PM KST.
*The article was written in future tense, but as the filming already happened, I changed the tense in the translation.
Credit: Sosiz
Translation: typicalharu@soshified.com/forums