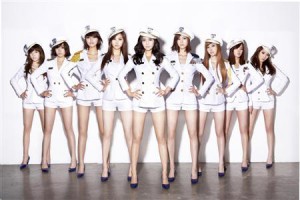 On the 10th, Popular Korean idol group SNSD announced their summer Japanese debut. On August 11th seven of their hit music videos will be released on a DVD temporarily called "SNSD Arrival ~ First Time in Japan Commemoration Disc", and on the 25th at the Tokyo Ariake Coliseum, about 10,000 fans will be invited for a great debut event. Asia's number one girl group is going to make a suitable, brilliant and magnificent start.
A whirlwind of girl groups from Korea are blowing in, but among them the overwhelmingly popular SNSD finally heads to Japan.
In addition to their cute looks, they also have great legs. Debuting in 2007 with an abundance of different personalities, wide range of men and women began to like them as they became popular and they had a big break. Last year they released "Gee" and on KBS's music program they created a new record with 9 consecutive wins, they also received first place on charts in Thailand and the Philippines and they took home the end-of-the-year awards. This year they also had consecutive hits with "Oh!" and "Run Devil Run" keeping up their advancement.
Last year, Universal Music's staff saw the girls' music videos and were shocked at quality of the songs and videos. At the same time they noticed their Korean accomplishments and immediately started a contract negotiation. Several record companies competed with one another, and in May a contract was decided (with Universal Music).
A universal staff explained this about the group, "The 9 members emphasized their beautiful legs, showed us matching uniforms and not only that have a synchronized dance. I've heard their music many times, the songs are toxic." The staff also gave high praise, "They're noble and refined, as females I'm attracted to them, as artists I'm also charmed by them."
You can feel how great their appeal is, and the DVD has been decided as their first step into Japan. On August 11th the DVD "SNSD's Arrival" will be released and will feature 7 hit music videos and bonus footage. In September their single will be released (Currently, they're working on choosing a song) and they will carry out their official debut.
Asia's number 1 girl group is preparing for a suitable debut. On August 25th at the Ariake Coliseum, 10,000 fans are invited to see their first Japanese performance. This is the greatest debut from any Korean artist coming to Japan. Although there's a high expectation forming (for SNSD), Japan's leading girl groups like AKB48 and Morning Musume are also a threat (to them).
Taeyeon (21) sends a message about their long-cherished Japan debut, "I'm very nervous, my heart is racing. I'm really happy for this blessing. We're preparing with all our might, so please look forward to us."
Translated by: Kanki@Soshified.com
Original: [LINK]