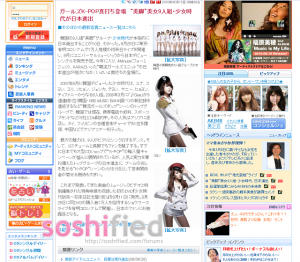 On the 10th, Korean 9-membered "beautiful legs" group SNSD announced their full-blown Japanese advancement. They plan to hold their first concert in since arriving in Japan on August 25th at the Tokyo Ariake Coliseum, which holds 10,000 people. In September, they plan to release their Japanese debut single through Universal Music. SNSD follows other performers like 4 Minute and KARA which have also came to Japan this year, more and more star performers are appearing.
In August 2007, SNSD debuted in Korea with Yoona, Sooyoung, Yuri, Seohyun, Jessica, Taeyeon, Sunny, Hyoyeon and Tiffany which formed the 9 member group. In March 2009 they created a record on KBS Music Bank with 9 consecutive wins with their song "Gee". They're the top group in the "Korean Girl Pop" scene and have done commercials for cellphones, drinks, sports brands, etc . and have commercial contracts with 15 companies. Their influence also spreads throughout Asia, they've received first place on various music charts in Thailand and the Philippines and have gone to places like China for their Asia Tour.
Their greatest attraction is their ability to synchronize their dancing with one another. Fans are fascinated with their costumes and legs. They're popularity can already be seen in large CD shops in the K-POP section. With both their popularity and true ability we can see signs of a BOOM for their Japanese debut and the music staff has high expectations.
So far, the songs' music video with special editing has been announced and bonus footage has been recorded. Their first DVD temporarily called, "SNSD Arrival ~ First Time in Japan Commemoration Disc" will be on sale on August 11th. On August 25th 10,000 people who purchase the DVD will receive an invitation to the Showcase Concert in Ariake Coliseum to debut to Japanese fans.
Translator Note: In Japan the girls are going to be known as "Shoujo Jidai" written as 少女時代. We will still abbreviate as SNSD to avoid confusion ^^
Translated by: Kanki@Soshified.com
Original: [LINK]