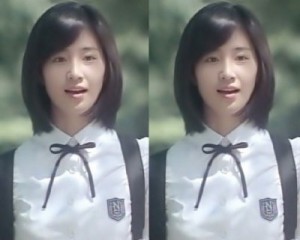 [TVDaily= Lee Kyungho Reporter] Girls' Generation's member Yuri is bringing an attention from netizens because of her past CF appearance.
Recently, Yuri's past appearance was revealed through an internet site's board. The CF that was revealed was filmed with Jang Donggun, and Yuri appears wearing a uniform and with an innocent and fresh looks.
This appearance of her was already known to some netizens. The reason why this is being a controversy is because Yuri has recently shown her easy-going and hyper appearances through KBS 2TV 'Invincible Youth'.
Netizens were looking for Yuri who lost her innocence(?) saying, "Return back the innocent and fresh Yuri" "Why did you send Yuri to a countryside" "She was alright back then, return back the time"
[TVDaily=Lee Kyungho Reporter sky@tvdaily.co.kr]
Translated by: soCOOL@soshified.com
Credits to: tvdaily.co.kr/sky@tvdaily.co.kr(Lee Kyungho Reporter)
Original Article: CLICK
++LOL YURI IS…innocent…..I hope
…but I'll still love her no matter what eheh